The most innovative provider of integrated time & attendance, logistics,
assets and planning systems to the UK & European construction sector.
Key Features
Fully integrated with DataScope's Time & Attendance System
Touch-free Access Management Solution
Now live on projects in a number of sectors
Effective for Indoor and Outdoor Use
Get in touch to find out more
Facial Recognition & Thermal
Recognising the Covid-19 challenges faced by construction projects, DataScope developed and integrated touch-free Facial Recognition & Thermal Access Control that operates as a standalone unit as well as with our turnstile solutions.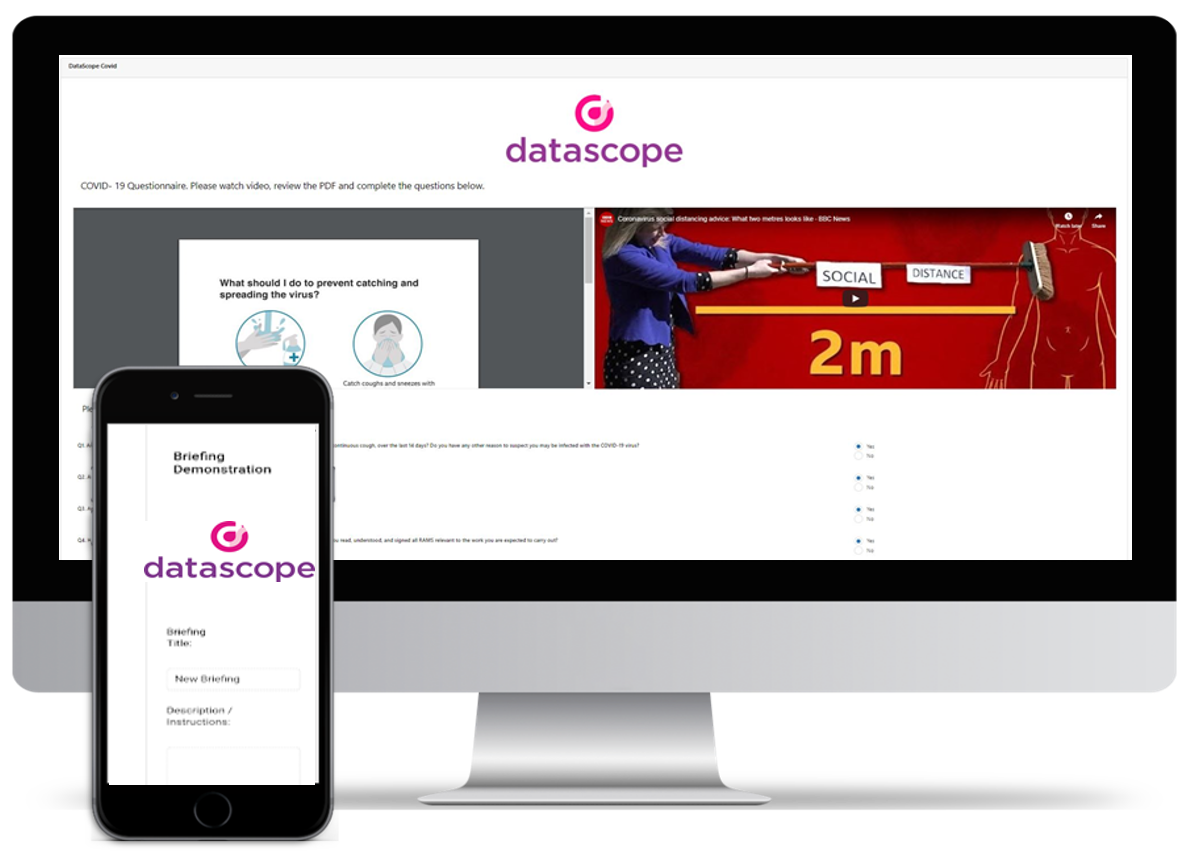 Briefings Platform
DataScope's Briefings Platform allows site teams to send critical health & safety information, videos and questions directly to operatives before they arrive on site which they can read, acknowledge and respond to from their own device.
Our platform has been used by a number of customers to distribute COVID-19 return to work forms via email to operatives Operatives can view videos, complete forms and view/download any supplementary documents from a PC or their smartphone.
Any forms sent to operatives can include:
• PDF
• Videos
• Drop-down lists
• Tick-box/radio buttons
• Date capture
• Signature capture (sign on glass)
Covid-19 Reporting and Dashboards
Track and report operatives, supervisors, managers and companies on site by number, nationality, access swipes and travel method across any time period. Heat mapping allows additional views of key data. Allows identification of pinch points and management of key activities
Contact Tracing & Social Distancing Alerts
Our Contact Tracing Solution uses wearable tags that send audible alerts when workers come within a certain distance of one another. Fully integrated with our Time & Attendance platform, all instances of contact are automatically uploaded to our system to allow project teams to run a contact tracing report if required.
In the event that an operative reports to be unwell, the our system can be interrogated and the tags that have been in close contact are provided as a report.
The report then shows which operatives have been in close proximity and the duration of that interaction.
Key Features
Fully integrated with DataScope's Time & Attendance System
– Contact Tracing Reporting
– Audible alerts when workers come into contact
– GDPR Compliant
– Plug & Play
Enforcing Social Distancing with DataTouch
DataScope's digital Planning & Management tool, DataTouch has been updated to manage and enforce social distancing measures.
During DABS meetings DataTouch can be used to highlight each company work area, indicate how many workers will be in each area and mark exclusion zones accordingly.
Tablet Signing-In System
DataScope's Tablet Access Control System has been specifically designed to be rapidly deployed to allow operatives and staff members to be quickly and effectively onboard operatives allowing them to swipe in and out using swipe cards and tablets.
– Operatives/staff members are able to quickly add themselves to the system and take a photograph of themselves using their smartphone to save time
– They then attend a badging station to complete the enrolment process and have their ID card printed
– Staff can then use their card to tap in and out of site at the beginning and end of their shift at access points around the site
– Authorised users can control individual access permissions to all areas
To find out about these or any of our other products, or to request a demonstration or a quote, please do not hesitate to get in touch with a member of our team: